An Interview with Steve Schroeder
This year, Steve Schoeder will retire from the UCSF faculty. Mitch Feldman spoke with Steve as he reflected upon his career at UCSF, the Robert Wood Johnson Foundation, and the Smoking Cessation Leadership Center.
Mitch Feldman: The Division of General Internal Medicine was established at UCSF in 1980 under your leadership as our first chief.  Can you describe why and how this happened and your role in it?  What was UCSF like at that time?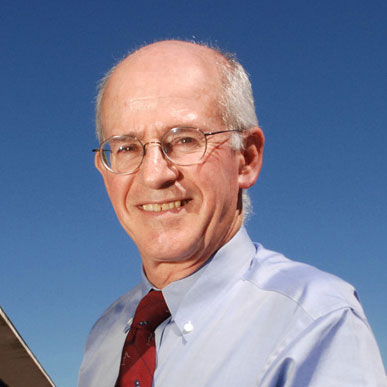 Steve Schroeder: Before 1980, there was an autonomous Division of Ambulatory and Community Medicine (ACM), led by Robert Crede, which reported directly to the Dean.  Most of its faculty were internists. ACM ran a primary care clerkship and supervised internal medicine residents in the clinic.  In the early 1970's, ACM received a primary care residency grant from the Robert Wood Johnson Foundation, which was later funded by federal sources. It attracted strong residents—almost all men at the time, that included such well-known figures as Eliseo Perez-Stable, Bobby Baron, and Eric Goosby.  ACM also ran a home care and a nurse practitioner program.  (The current crop of residents is equally strong, but is now dominantly female). The ACM faculty did not attend on the hospital wards nor did they have their own patient panels, and research was not part of its mandate.  The Department of Medicine (DOM) Chair, Holly Smith, was comfortable with this arrangement because his intellectual passions were basic science and subspecialty care. There were one or two generalist physicians in the DOM at each of the three major UCSF hospitals, and each was well known as a great clinician but mainly hospital-focused.  Most of the ward attendings were either laboratory-based subspecialists or full-time clinical subspecialists.
Two events combined to spur Holly Smith to create the DGIM. One was a growing national movement of primary care that included Divisions of General Internal Medicine at most major academic medical centers, and Departments of Family Medicine at many. The second event was a political decision to convert a medical ward at SFGH from internal medicine to family medicine. Holly, who was an adroit academic politician, realized he needed to invest in primary care and persuaded the medical school dean, Julius Krevans, to cleave ACM (which had a lot of faculty slots) into two component units—a Division of Family and Community Medicine that morphed eventually into a separate department, and a DGIM.  Holly had recruited me from the DGIM of The George Washington Medical School in 1976.  At GW I was involved in many primary care programs, but my initial role at UCSF was mainly to do health policy research and help lead the Robert Wood Johnson UCSF/Stanford Clinical Scholar Program. But I also asked to have a personal panel of patients and to attend on the medical wards. I never knew whether Holly was stockpiling me for eventual general medicine leadership, but he did tell me during a visit to UCSF in 1975 that "UCSF could use someone like you."  
In 1979 he asked me to form a DGIM, and I had a year to secure some grants and to recruit three outstanding general internal medical faculty from outside UCSF—Al Martin,  Bernie Lo, and Steve McPhee.  Two anecdotes at that time capture my relationship with Holly Smith. When I asked how he would know whether the new DGIM was successful, he tersely replied, "Word of mouth". And just before the DGIM was officially launched in July 1980, he called to ask how I was doing.   I replied that I was puzzled.  We had obtained several large grants and recruited three outstanding new faculty, but I worried that disasters were just around the corner. Instead of reassuring me, he replied—"Why you're just describing the past 15 years of my life!"
 
What were the major challenges facing the division and GIM more broadly 40 years ago?   What do you see as the major threats and opportunities facing GIM and primary care today?   
Our first challenge was to establish DGIM as a credible academic unit within the high- powered UCSF community.  Establishing clinical credibility came easy, because our new faculty were spectacular clinicians, and in those pre-hospitalist years many of the DOM attending physicians were not much involved in clinical activity. In addition, we had secured a Robert Wood Johnson grant to convert our former teaching clinics into faculty-resident clinics, and many UCSF faculty chose our faculty as their personal physicians.  This reality quickly changed the power relationship of our division.  Moreover, we were getting top marks for our ward teaching, and the already strong primary care residency became even more attractive.  Our research credentials took a little longer to burnish. The addition of capable researchers like Tom Coates and Steve Cummings was helpful in that regard, and ultimately a large number of our faculty and residents became nationally recognized for their scholarship and teaching. The underlying challenge, however, was how to grow and sustain primary care within an academic medical center that prioritized specialty care and in a national health care system that systematically devalued generalism. That challenge persists today at UCSF and across the nation. In addition, the subsequent development of hospital medicine as a separate discipline has blunted the ability of DGIMs to obtain clinical distinction at academic health centers.
 
I heard you give a talk at SGIM a few years ago where you referenced the famous MLK quote: "The arc of the moral universe is long, but it bends towards justice."  Are you still optimistic that we are making progress in addressing the profound health care disparities that still exist in the US? 
Well, the COVID-19 pandemic was a setback in that it disproportionately harmed people of lower SES and persons of color. That said, we have been gradually narrowing some of the gaps in morbidity and mortality between the haves and have-nots. But we also struggle politically to give voice and expanded opportunity to those who have traditionally been left out. So, I guess you could call me a guarded optimist. There is so much more we need to do regarding social justice and climate change—to name two burning issues.  It is inspiring that all three UCSF DGIMs are providing leadership in these domains.  
 
You left UCSF in 1990 to become the President of the RWJ Foundation. What are you most proud of during your tenure as President? 
Having a generalist become the leader of an important philanthropy was a boost to the field of primary care. An important structural change I initiated was to evolve the RWJF board from an exclusive enclave of all white—and mainly corporate—men to one that was broadly diverse. And Risa Lavizzo-Mourey, my successor, who took over in 2003, is an African American general internists and geriatrician who I had brought to the foundation a few years earlier.  Another structural change was to emphasize the "health" component of the foundation's mission: "To improve the health and health care of the American people."   Until I arrived, virtually all the program effort focused on health care—including supporting primary care—but neglected the health component.
Ultimately, the test of a foundation is what difference it makes. Two of our program areas were recognized as having major impacts. We were the first major foundation to address health consequences of substance use—tobacco, alcohol, and illicit drugs. In particular, our large set of programs addressing smoking was nationally acclaimed, and Joel Fleischman, in his 2007 book "The Foundation: A Great American Secret" listed RWJF's work on smoking as one of 12 high impact programs of the 20th century, alongside the Flexner Report, The Green Revolution, and Children's Television Workshop. The other area in which we were very influential was our support of programs focusing on care at the end of life.  We jump-started the palliative care movement, including establishing the program at UCSF, and did a host of other projects in that field.  But our efforts to liberalize pain control may have unwittingly contributed to the subsequent opioid overuse epidemic, although that was certainly not our intent. Other programs in which we made a difference included expanding health insurance coverage after the federal passage of the Child Health Insurance Program (CHIP), promoting opportunities in the health professions for physicians of color, supporting nurse faculty scholars, and stimulating voluntary efforts to care for homebound persons with chronic health conditions. Although I was proud of these programs, looking back I think we could have made even more of an impact.
 
I recall that you had a half-day primary care practice for at least some of the time while at RWJF- true?  How did you manage to do this as you oversaw more than $4 billion in grants during your tenure? 
I decided when I moved to RWJF that I wanted to retain my identity as a general internist, so once I got my New Jersey medical license I arranged to have a Thursday afternoon clinic at what is now the Rutgers Medical School. I gave my small panel of patients my RWJF office number, and night and weekend call was covered by the group practice. Although my coverage was not ideal, I tried to be a good physician for my patients, and usually felt rejuvenated by my afternoon clinic sessions.
 
You then returned to UCSF, and to DGIM, in 2003 as the Distinguished Professor of Health and Health Care in the Department of Medicine and to lead the Smoking Cessation Leadership Center. What were your goals in establishing the SCLC and what do you see as its major accomplishments?   
I left RWJF because I did not want to become stale in the position and wished to take on one more responsibility that might make a difference.  Our RWJF board was kind enough to offer me support for whatever path I chose. As I pondered potential opportunities, it seemed that smoking cessation was a good fit.  It bridged my two professional  domains of clinical medicine and public health, was an important yet unglamorous and underappreciated area (not unlike primary care!), and could exploit my network of national contacts. I also wanted to return to UCSF, not only because I so admire the institution, but because my aged father still lived in the Bay Area and our two sons were starting west coast medical careers. I envisioned that the SCLC would somehow entice clinicians to be more motivated to help smokers quit, but our strategies for doing that were not yet evolved.  As it turned out, the program exceeded my expectations. This January marks its 19th year of working with multiple organizations to increase the number of people trying to quit smoking as well as the probability that those attempts would succeed. We are entirely externally funded, and have received about $46 million to date from foundations, governmental organizations, and charitable contributions. We have an outstanding staff of 8 dedicated persons, led by SCLC Deputy Director Catherine Saucedo, who provide exemplary technical assistance and customer service. The way we work is to identify organizations such as professional societies (e.g., American Academy of Family Physicians and American Dental Hygiene Association), governmental organizations  (e.g. the federal Substance Abuse and Mental Health Services Administration--SAMHSA), and voluntary associations (e.g., American Cancer Society, National Alliance on Mental Illness--NAMI) that have the potential to help smokers quit. We then work with internal smoking cessation champions within those organizations, providing educational material, technical assistance, and in some instances grant funds. Our major accomplishments have been:
Making it easier for clinicians to help smokers quit, primarily by promoting the use of telephone quit lines for those who feel unable to become smoking cessation experts.  We coined the phrase, "Ask, Advise, Refer" (to a quitline) as a treatment shortcut;
Expanding the network of practitioners helping people to stop smoking, including respiratory therapists, dental hygienists, psychiatric nurses, and many others;
Partnering with commercial companies, including helping CVS stop tobacco sales in its stores and administering (on a voluntary, unpaid basis) Pfizer's $4.6 million smoking cessation grants that were awarded to 40 health care institutions;
Focusing attention on the high rates of smoking among those with mental illness and/or substance use disorders. This involved changing the culture among clinicians working in this area, as well as influencing program priorities for agencies such as the CDC, SAMHSA, NAMI, and the American Cancer Society;
Conducting over 100 webinars that are attended by anywhere from 500 to 1200 viewers, plus 22 state summits that focus on strategies to reduce smoking among patients with behavioral health conditions;
Publishing over 60 smoking cessation articles in the medical literature, including many in high-profile journals such as New England Journal of Medicine and JAMA.
During the past 19 years there has been a steady decline in smoking prevalence and an increase in quit attempts. While it is not possible to attribute how much of that progress was because of our efforts, we feel that we helped to make a difference and thereby reduced the number of lives lost to the most preventable cause of death in the United States and the world.
After you step down from the SCLC leadership and retire from the UCSF faculty, you will be returning on recall for at least 18 months starting February 1, 2022.  What are your plans during your recall appointment? 
I will have a limited role within the department of medicine and the medical school that will include mentoring faculty and fellows, committee work, and some teaching. It will be an experiment, and we will see how it works out.
 
What is the best advice you ever received from a mentor? What advice would you like to share with junior faculty embarking on a career as academic generalists?  
I never really had a defined mentor, but I observed leaders carefully and identified three types of patterns.   One pattern was behaviors that I wanted to emulate, such as generosity, reliability, and integrity.  Another was behaviors that I admired but was unable to model, such as inspirational oratory. And one pattern consisted of behaviors that I would try to avoid, such as exploitation, not honoring commitments, cruelty, and rudeness. Regarding advice for junior faculty, here are some thoughts I shared at a speech at the 2012 national SCIM meeting:
Work on things that are important to you;
Be reliable;
Model your values in your day-to-day interactions with patients, colleagues and trainees, as well as in your choices of scholarship and teaching;
Avoid the false dichotomy of choosing between professional and personal satisfaction.   It is possible to live a fulfilling life that bridges both these domains;
Be resilient;
Be kind  (I did not include that in the speech, but I should have).
 
Anything more you want to tell us? 
Only to add that medicine continues to be a splendid profession, and that UCSF is a very special institution that somehow manages to combine high standards of professionalism and humanistic values. It has been a privilege to work here and to be associated with so many great people.