The annual DGIM Robert H. Crede Awards provide the faculty and staff of Mt. Zion DGIM an opportunity to recognize their co-workers for their dedication and service to the Division, our students, our patients and the community.
Nominations for each of the categories are submitted by DGIM faculty and staff and the winners are selected by the Crede Award Committee composed of previous year's winners.
2018 Crede Awards Winners
(with excerpts from nominations)
Excellence in Teaching - Leslie Sheu, MD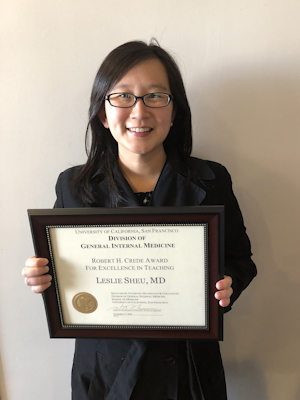 Leslie Sheu is a spectacular teacher and educator.  She has created a magical learning environment for her Bridges students.  Remarkably in her first year as a coach, Leslie had her students design, implement, and eventually publish their QI project.  As a teacher, she is learned centered, deeply engaged and evidence based.
Excellence in Clinical Care (Faculty) - Sarah Summerville, MD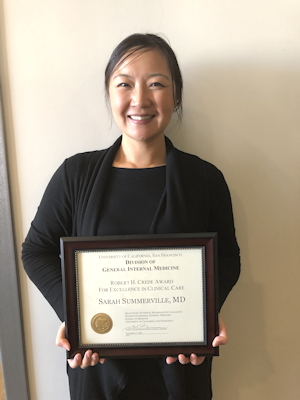 Sarah is an outstanding clinician and provides care of the highest quality to patients in primary care and in acute care. She is patient-centered in her approach and I have been impressed by her attention to detail when she sees my patients in acute appointments or in urgent care.
Excellence in Clinical Care (NP) - Patty Paik, NP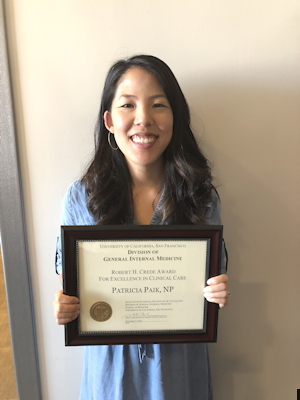 Patty is such a wonderful asset to our clinic!  She is very smart, highly competent and dedicated to appropriate patient care.  On multiple occasions she has gone out of her way to follow-up with complicated patients and make sure that they are getting the follow up that they need.  She is a great team player and is enthusiastic, courteous and kind to everyone she works with.  Patty is a star clinical provider in our clinic and deserves this award.
Excellence in Clinical Research - Jason Satterfield, PhD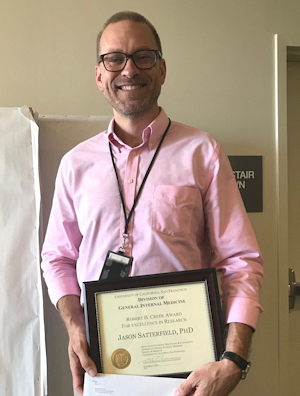 Jason is an outstanding researcher who has contributed a great deal to DGIM. He has received significant funding including an R01 to conduct research on substance use and abuse using an innovative computer-assisted technique. His work has greatly benefited DGIM patients and the quality of care we deliver through SBIRT assessments and interventions. Jason is also a wonderful colleague who gives constructive feedback to other researchers and trainees as well as a great collaborator
Excellence in Nursing Care - Christian Mojica, RN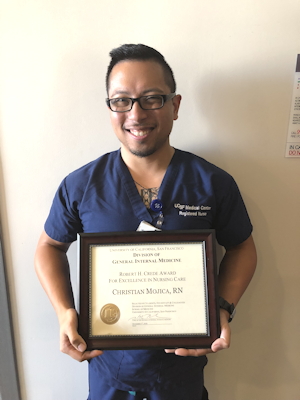 Christian is always quick to help, knows his stuff, and is an asset to our practice.
Excellence in Academic Administration -

Jon Jovi Bodestyne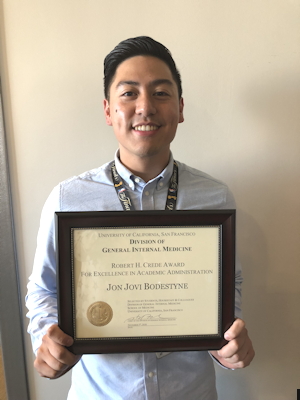 Jon Jovi is such a pleasure to work with. He has been able to help me with such a variety of things, both for my studies and to organize my academic life.  He is always personable and caring and ready with a funny or kind word. He is always striving to learn more and use his expertise to help us all. I appreciate that he is organized about following up with anything asked of him.
Excellence in Clinical Administration -

Savina Briggs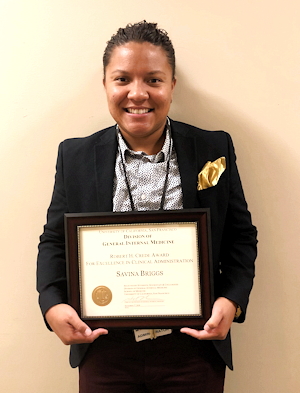 Savina has been a great manager at DGIM all these years.  She has the art of making problem solving so interesting and the solutions so constructive that everyone wants to get to work and figure them out.  She manages with passion and purpose.
Excellence in Clinical Administration -

Mai Giang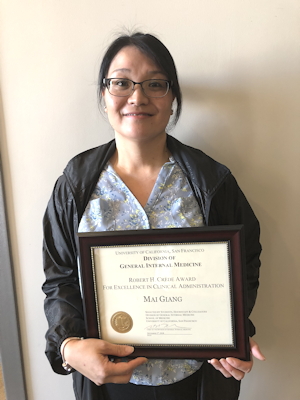 I knew that Mai does an amazing job at keeping our clinics running, coordinating all the faculty, NP and resident schedules, vacations, transfers, etc. However, at our recent Access Kaizen, I learned exactly how complicated and onerous of a job she is tasked with and how she quietly and calmly she gets this seemingly insurmountable work done!   She makes it seem smooth and easy, though I can't imagine that it is. She is truly invaluable to the functioning of our clinic.
Excellence in Community Service -

Catherine Saucedo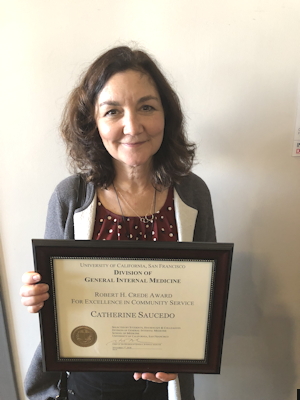 Catherine has emerged as a national representative for SCLC to help smokers quit and thereby improve community health.  Her success derives from a happy combination of a strong work ethic, a passion to improve public health, outstanding customer relations, and a shrewd sense of strategy. 
When SCLC began in 2003 I had hopes for modest impact.   What we achieved wildly exceeds my expectations, and while there are many reasons for our success, I identify Catherine as the most important factor.  Her work has contributed to DGIM's record of community service, a goal that was very important to Bob Crede.